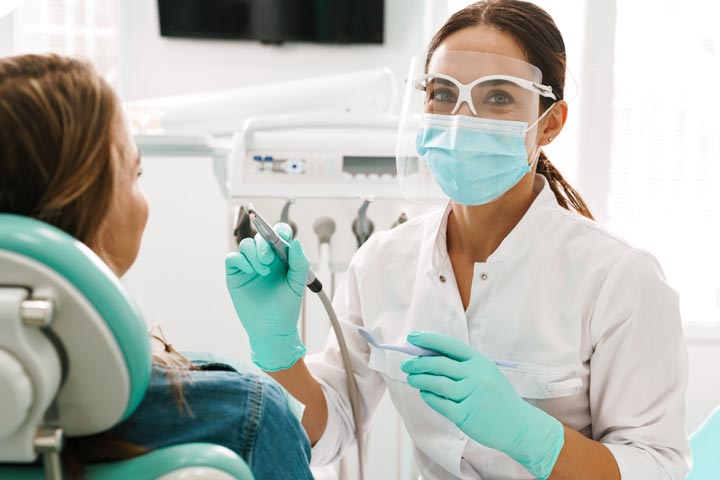 Dentists' Income Protection Insurance
Specialist, whole of market advice… with a smile!

Compare The UK's Top Insurers
Receive Quotes From The Whole Market
Introduction
If you're a dentist, have you ever thought about what would happen if an accident or a serious illness prevented you from working?  A dentists' income protection policy could be your essential financial lifeline.  However, are you sure you know how to find the right one? Obviously, insurance is a highly competitive sector.  It goes without saying that many providers are after your business.
And, you'll only need insurance when you actually need insurance.  In fact, we hope you'll never need it, but it makes sense to make practical provision in case you do.
Don't worry.  In our opinion, you just need to make one phone call, or just enter your criteria via our "Compare Top 10 UK Insurers" box on this website and we'll get back to you quickly.
Dentists' Income Protection Advice from Black Lion Insurance
We offer impartial advice to dentists on how best to protect their income should the worst happen.  With access to the whole of the UK market regarding income protection, we've got bargaining power on our side and could negotiate better premiums for you, rather than going direct to an insurer yourself.
Black Lion Insurance works with dentists who work through their own practices in a self-employed capacity, or within the NHS.
Income protection insurance for dentists via a single, added-value source such as Black Lion Insurance could save you time, money and stress.  We're here to help you choose the right option for you, your family and your personal circumstances.
We can set up the policy for you.  And, we can help you make a claim.
In our opinion, income protection insurance is the ONE type of cover that dentists should be thinking about.  Can you afford NOT to have it?
What is Income Protection for Dentists?
Essentially, if you are too ill to work or you suffer an injury that prevents you from working, income protection will provide you with a tax-free monthly income.
Income protection for dentists can protect up to 70% of your gross earnings (the money you earn before tax) and could cover essentials such as your mortgage, bills, groceries – even payments on your car.  Life can be expensive.  Therefore, this pay out could mean the difference between a safe and secure roof over your head and financial disaster.
The amount you are paid and the length you are paid for will depend on your insurer and your policy.  For example, payments could continue until you retire.  Policy options can vary quite a lot, but with Black Lion Insurance we'll make sure that you're fully aware of everything and totally comfortable before you commit.  No nasty surprises.
Certain income protection providers offer specialist options for NHS dentists, so read on to find out more.  Better still, why not contact the experts here at Black Lion Insurance?  We know every nuance and detail of this specific type of cover and will be pleased to take you through how it works.
What's more, you can add optional Unemployment Insurance to protect you against the possibility of a forced redundancy.
Your Role as a Dentist
Working as a dentist brings many rewards and challenges. It goes without saying that you've worked hard to qualify, and now you're helping people in a practical way.  You're working towards a healthier community every single day.
Whether you're a part of the NHS, or working in your own practice in a self-employed capacity, your role in restoring your patients' oral health cannot be under-estimated.  Dentists' skills in preventative or restorative care is something we're all grateful for.  Even if we're not exactly looking forward to our next check-up…
However, you don't need us to tell you that your working life is somewhat stressful.
Is this You?
You work long hours and you work hard.  What's more, dentists face exposure to infectious diseases and, due to repetitive motions and a strained posture during treatment, your long or even medium-term health and well being could be compromised.
Have you considered the risks associated with your occupation? On the upside the financial rewards of dentistry can be substantial.  Consider, however, the consequences of those rewards no longer being there.
I'm a Dentist.  Do I really need Dentists' Income Protection?
The answer is yes, probably.  But think about your financial situation, both now and in the future.
Although you may be earning well currently, if you feel that you would not be able to afford your mortgage or your bills without a regular income, then an income protection insurance policy may be needed.  Contact us for more information.
If, however, you know that you could get by on your savings, then you may NOT need it; similarly, if your family plans to support you or you feel that you could survive on benefits. However, how long will it take you to recover?  Are you sure? You could need a replacement income for a number of months – or even years.  Alternatively, a terminal diagnosis could change everyone's lives for ever.
Dentists' Income Protection – How it Works in a Nutshell
After an in-depth fact find, the insurance consultants here at Black Lion will search the whole of the market for the best rates and the best policies from all the major income protection insurers.
If you have an existing policy, we'd be happy to review it for you.  Your situation is likely to have changed considerably, therefore your cover may not be appropriate.  Don't worry though – we can help you to change quickly and easily.
Should you need to claim, Black Lion Insurance will help you.  Your insurer will need your completed claims form and medical evidence of your condition or injury from your GP or other medical expert.
There will nearly always be a deferred period.  Read more below about how this works.
With most insurers, you'll receive between 55% and 70% of your pre-tax income.
You will have agreed with your insurer your claims period. It will be until you are well enough to return to work, a specified period (for short-term claims) or even at retirement, in the case of longer-term claims.
What's NOT included in Dentists' Income Protection?
Self-inflicted injuries.  Any self-inflicted injuries, including illnesses caused by the misuse of drugs or alcohol will prevent you from claiming.
Pre-existing conditions.  When you apply, you will need to declare any conditions that you have suffered from during the last 5 years.  You should be aware that your application could be excluded because of this.  However, there's good news:  a few insurers will cover you if you have type 2 diabetes.
Important:  NHS Sick Pay for Dentists
If you're directly employed by the NHS, we'd recommend that you check your terms and conditions of work.  NHS sick pay entitlement for dentists will rise according to your length of service.  Did you know, for example, that if you have more than 5 years' service, you qualify for 6 months' full pay and 6 months' half pay?
Talk to Black Lion Insurance about a deferred period (see below).
We may be able to secure competitive premiums for you if you feel that your NHS sick pay could adequately support you during this time.  A specialist dentists' income protection policy could simply pick up where your NHS sick pay tails off.
Are you a Self-Employed Contractor?
The bad news:  you don't qualify for NHS sick pay at all.
The good news:  Black Lion Insurance specialises in advice to contractors and can offer you expert guidance on the best income protection product for your needs.
For example, you may wish to consider Company Director income protection insurance.  Why?  Because the premiums are paid by your business rather than directly by you.  However, you will pay tax on your benefit.
What is a Deferred Period and Why Is This Important?
Your deferred period is specified number of months during which benefits will NOT be paid after your claim. It's the amount of time you need to be out of work in order to claim your insurance benefits.  In brief, the longer your deferred period the lower your monthly premiums.
For example, you could pay competitive premiums and then have your IP start once your NHS sick pay stops paying out.
Note that Income Protection for Dentists usually keeps the NHS sick pay structure in mind when your deferred period is being planned.  Also, that some insurers will enable you to top up your NHS sick pay.  This is good news as you could have a longer deferred period – without your cover being compromised.
Talk to Black Lion Insurance About the Following Important Things:
Policy cease age.  Your age at which the policy will end.  The higher the cease age, the more you will pay.
How long your claims period should be.  Shorter term claims periods are cheaper; longer terms – more expensive.  Is a short-term policy enough for your needs, however?
Sum Assured.  You'll be able to insure between 50% and 70% of your gross earnings.  The higher amount you choose to cover, the more expensive your premiums will be.
Incapacity Definition.  We would always recommend the "Own Occupation" definition  of incapacity.  This means that you'll receive pay outs if you can't carry out the job you do currently, rather than say a series of different, but related tasks.
Types of Premium.  In brief:
Reviewable Premiums.  Your premiums may start cheaper but could rise depending on your insurer.
Age-Banded Premiums.  Again, cheaper premiums to start with will rise – but only by a pre-set amount established in your policy.
Guaranteed Premiums.  More expensive initially but payments are locked in, unless you make any changes to your policy.
Indexation.  Would you like to increase your cover in line with inflation?  This option ensures that the value of your policy appreciates, rather than depreciates over time.
Sabbatical Cover.  You may be able to take a break from your policy of up to 2 years.  Perhaps you want to work or study abroad?  That's fine, as long as you have a UK bank account.
International Coverage.  If you move to anywhere in Europe, the USA, Australia or New Zealand, you can keep your cover.
Compare Top UK Insurers
Takes approx. 60 seconds
What our clients are saying

Black Lion insurance were great in helping me get through the countless jargon and pitfalls when it comes to setting up insurance. I was thankfully recommended to them by a colleague and they made the process seamless ensuring I have the most appropriate policy for me.

I'm an IT contractor and I wasn't sure if I was eligible for this cover, however, to my delight, not only could I have the cover, but I could pay it through my Ltd company. I was covered within an hour of getting in contact. Very prompt and informative service!

Polite and very clear when explaining my product of interest. Happy to answer any questions and recap on areas that I wanted to ensure I understood clearly before committing. Didn't feel pressured or rushed at any point and the chap was very pleasant.
About Us
Part of Halo Consulting, Black Lion Insurance are a dedicated team of insurance consultants with years of experience in guiding our clients to a solution that meets their specific needs. We specialise in helping both employed and self employed individuals, as well as business owners on a variety of solutions, which range from life insurance, income protection insurance, keyman insurance and shareholder protection insurance.